A properly aligned set of teeth doesn't only look pleasing, it also helps boost your oral health. Fixing crooked, uneven, twisted, or protruding teeth is both cosmetic and orthodontic.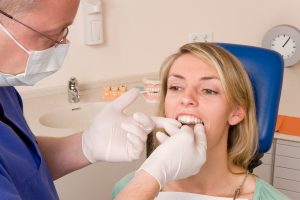 While the traditional braces come with metal wires and brackets, SureSmile uses soft, plastic aligners. It offers an option if you'd like to straighten your teeth discreetly.
The procedure also isn't for teens alone as anyone can receive it. However, starting early can help make the process easier as the jaw is still developing.
Here at First City Dental, we're pleased to offer SureSmile aligners to our clients. Contact us today to learn more about it.
What is SureSmile aligners?
SureSmile is a method that uses a series of clear plastic aligners to move teeth to their proper position. These aligners are customized for every user. They are built upon the progress of the previous aligner, until final results are achieved.
How do they work?
The first step to getting SureSmile is a smile assessment. Your dentist evaluates the condition of your smile and determines if SureSmile aligners are the right solution for your oral health concerns.
The next step is designing your new smile using state-of-the-art tools. It's a wonderful learning experience as you get to sit on the dental chair and see what your dentist sees in your mouth. Using a digital scanner, your dentist can take accurate impressions of your mouth to be sent to the dental laboratory.
Once your aligners arrive, your dentist schedules you for a fitting to ensure that the appliance fits right. Aligners are generally worn for up to 22 hours a day for optimal performance. Your dentist provides you with instructions, along with dos and don'ts.
For instance, you can remove your aligners when eating but it's crucial to put them back on right after. You also need to visit the dental office so your dentist can monitor your progress and check the condition of your aligners.
Benefits of SureSmile aligners
SureSmile aligners can help correct a wide variety of dental issues. Here are more benefits they offer:
Clear. Since the aligners are clear, people might not know right away you're getting dental work done. But they'll most likely notice the difference in your smile once your treatment is complete.
Removable. You're not stuck with your device. You can take it out when eating or brushing your teeth.
No diet restriction. Since your aligners are removable, you're also free to eat any food you want. But, of course, it still helps to limit the intake of sugary and starchy food.
Convenient. You can take your aligners out when you need to, and they don't come with wires or brackets that can poke through or rub against the gums. The aligners are made from soft plastic to prevent gum irritation.
Non-invasive. You can continue playing your favorite sport or indulging in your favorite food. Your aligners won't get in the way of your daily routine.
Fewer dental visits. There are no dental adjustments every month, but you still need to see your dentist regularly for checkups.
Is SureSmile right for me?
SureSmile aligners are a great option for improving smiles, but it may not be the right solution for everyone. Book a consultation with the dentist to find out if this treatment is for you. This is also an opportunity to ask questions you have about the procedure, including its cost.
Learn more about getting SureSmile aligners in Saint John, NB Find out how SureSmile can transform your smile. Contact us today at (506) 634-2099 to schedule your consultation with the dentist. Your confident smile may only be a few dental visits away.