A dental bridge is a permanent restoration that can replace one or several missing teeth.
It's usually made of porcelain, which gives it its natural appearance. But if you need to replace many teeth, your dentist may recommend dentures instead.
A dental bridge consists of a false tooth, which is kept in place by the abutment teeth on either side of the gap. These teeth are filed down to make room for the abutment.
Benefits of dental bridges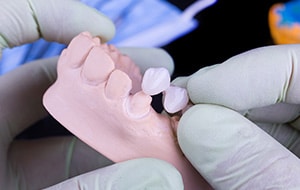 Here are a few of the benefits of getting dental bridges:


Restores chewing abilities
Improves speech
Keeps surrounding teeth from shifting
Preserves facial structure
Avoids premature wear and tear
Brings back your natural-looking smile
Common types of dental bridges
Here are the common types of dental bridges:


Traditional dental bridges. Traditional dental bridges are straightforward in structure. They're composed of artificial teeth and crowns or the abutment on each side. A portion of the teeth receiving the abutment is removed to provide sturdy support for the artificial tooth. This type of dental bridge may be ideal if there are natural teeth on both sides of the missing tooth.


Cantilever dental bridges. Cantilever bridges are similar to traditional dental bridges. To qualify for a cantilever bridge, you need to have one healthy tooth next to the missing tooth. This tooth shall serve as the support for your artificial tooth. While it requires only one remaining tooth as an abutment, cantilever bridges aren't as strong and may only be suitable for replacing front teeth.


Maryland bridges. Maryland bridges also require supporting teeth on each side of the gap. But the amount of tooth that needs to be removed is less as the bridges only attach to the backside of the teeth. This type of bridge is usually applied to the front teeth and uses either porcelain or metal for abutment. They're less invasive, but they're also not suitable for molars.


Implant-supported bridges. If you have several or at least three missing teeth, you may also consider using dental implants as support for your bridges instead of dental crowns or metal attachments. Since implants offer sturdy support, they may also be used for molars or back teeth that are exposed to heavy chewing forces.
What to expect when getting dental bridges
Here's a general idea of what you can expect when getting dental bridges:


Your dentist prepares the abutment teeth on your first visit. They need to file down or remove a portion of the enamel to accommodate the crown, which is placed over them.


After which, your dentist takes impressions of the teeth for the dental bridge, artificial tooth, and the crown for the abutment teeth. Your dentist also provides you with a temporary bridge to protect your teeth while the final restoration is being made.
When you come back, your dentist replaces the temporary bridge with the permanent one. They check the fit before cementing it in place.


Eating should become easier once you get used to your dental bridge. In the meantime, you need to stick to soft food or cut food into small pieces.


At first, you may also find it challenging to speak, but your speech should improve as you get to enunciate sounds better with a complete set of teeth.
Taking care of your remaining natural teeth is crucial as they provide support for your bridge. Bridges don't require special care, but your dentist or hygienist can teach you more effective brushing and flossing techniques.
Restoring your beautiful smile with dental bridges in Saint John, New Brunswick
A dental bridge offers an option to bring back your confident smile, and we're pleased to offer it to our neighbours here in Saint John, New Brunswick.
To learn more about how the process works, including its potential costs, please get in touch with us today at (506) 634-2099. We're happy to answer your questions or help you arrange an appointment with the dentist at your convenience.